Holly (Ilex, ref>Sunset Western Garden Book, 1995:606–607</ref> is a genus of approximately 600 species of flowering plants in the family Aquifoliaceae, and the only living genus in that family.
Description and ecology
Edit
Holly berries are somewhat toxic to humans, though their poisonous properties are overstated and fatalities almost unknown.
They are extremely important food for numerous species of birds, and also are eaten by other wild animals. In the fall and early winter the berries are hard and apparently unpalatable. After being frozen or frosted several times, the berries soften, and become milder in taste. During winter storms, birds often take refuge in hollies, which provide shelter, protection from predators (by the spiny leaves), and food. The flowers are sometimes eaten by the larva of the Double-striped Pug moth (Gymnoscelis rufifasciata). Other Lepidoptera whose larvae feed on holly include Bucculatrix ilecella (which feeds exclusively on hollies) and The Engrailed (Ectropis crepuscularia). Holly is commonly referenced at Christmas time.
Having evolved numerous species that are endemic to islands and small mountain ranges, and being highly useful plants, many hollies are now becoming rare. Tropical species are especially often threatened by habitat destruction and overexploitation, and at least two have become extinct, with numerous others barely surviving.<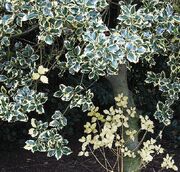 Selected species
Edit
References
Edit
↑

Ulloa Ulloa & Jørgensen (1993), eFloras.org (2007a, b), IUCN (2007), RBGE (2007), USDA (2007a, b)
Ad blocker interference detected!
Wikia is a free-to-use site that makes money from advertising. We have a modified experience for viewers using ad blockers

Wikia is not accessible if you've made further modifications. Remove the custom ad blocker rule(s) and the page will load as expected.