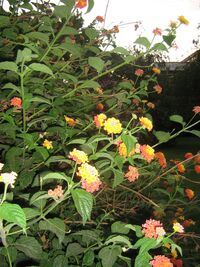 Lantana is a low growing shrub suited to temperate climates. In tropical environments, however, it has an established history of being highly invasive and hard to eradicate. As such it would be inadvisable for use for places like Florida and Hawaii.
Camara vulgaris, Lantana scabrida, Lantana aculeata, Lantana armata, Lantana mista
Common Names
Edit
Spanish Flag, West Indian Lantana
Requirements
Edit
Sun
Prefers well drained soils
Characteristics
Edit
Seed tend to be toxic if ingested
This plant is attractive to bees, butterflies and/or birds
References
Edit
Ad blocker interference detected!
Wikia is a free-to-use site that makes money from advertising. We have a modified experience for viewers using ad blockers

Wikia is not accessible if you've made further modifications. Remove the custom ad blocker rule(s) and the page will load as expected.