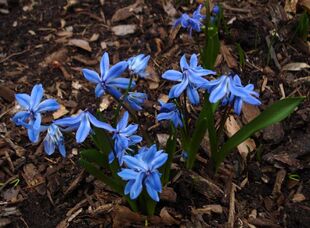 Scilla
From the genus Scilla, there are over 80 species of which only about 10 are widespread. Best known are the two-leaf (Scilla bifolia) and the Siberian squill (Scilla siberica). It is native to Russia, the Caucas and Turkey, despite it´s name it is not from siberia.
Description
Edit
It grows to 10-20 cm wide and it is bulbous and is perennial, it flowers in early springs. After flowering the flowers mature into pods that release black seeds.
Cultivation
Edit
It´s cultivated for it´s bluebell-like flowers.This plant has gained the Royal Horticultural Society's Award of Garden Merit.
Ad blocker interference detected!
Wikia is a free-to-use site that makes money from advertising. We have a modified experience for viewers using ad blockers

Wikia is not accessible if you've made further modifications. Remove the custom ad blocker rule(s) and the page will load as expected.